Intercom & Entry Systems
Protecting your home, business, or property starts with protecting the entrance.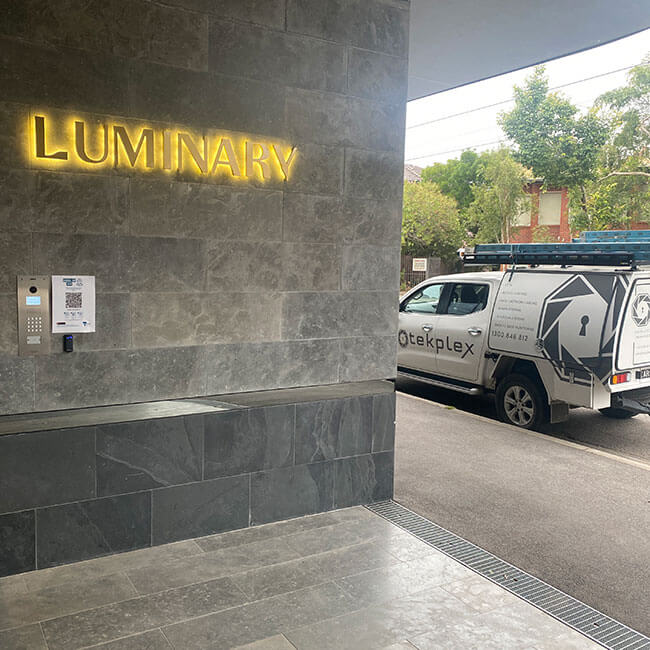 Intercom & Entry Systems Installation Melbourne
Looking to protect your apartment complex, commercial building, home, or any other property? Installing an intercom and entry system is perhaps the easiest way to improve the security of any premises. Intercoms can simplify door access control, making everything as easy as allowing you to see and hear from anyone requesting entry to your property. Our intercoms can offer whatever it is you need: snapshots of anyone ringing your doorbell, the ability to control entry from your smartphone, the capacity to speak with visitors remotely. Whatever it is you need to feel safer in your building, entry systems can offer what you need.
About Intercom & Entry Systems
Intercom and entry systems provide a flexible method of managing visitors that puts all the control right in your hand. Maybe you don't always expect the same people entering or exiting a commercial building, or maybe you're looking for something that will give you better control of who's entering the premises at any given time. Intercom and entry systems offered through Tekplex Solutions give you total control— you can save a snapshot of everyone showing up at the door, talk over an intercom to request information from a visitor, or even control doors from your smartphone. In short, you can know exactly who is being allowed into your property at any given moment, and it can all be achieved remotely.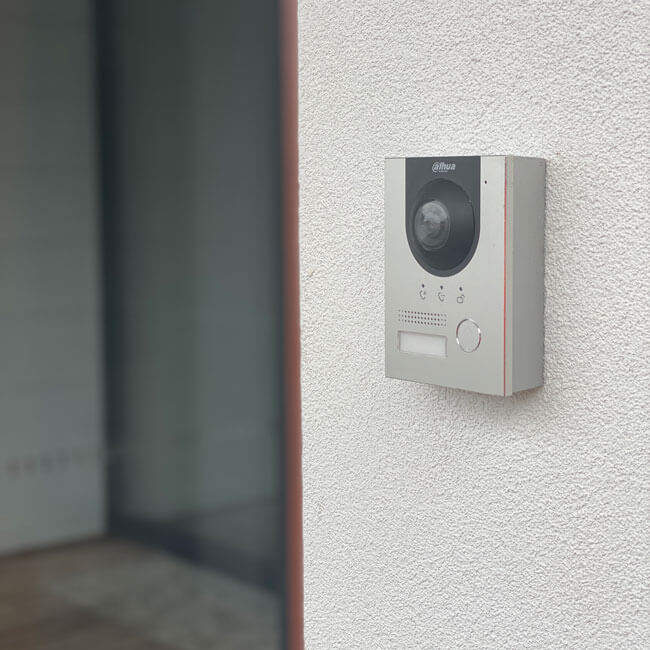 Why Install Intercom & Entry Systems?

Remote Control
You no longer need to be at the door to see and communicate with those visiting. Talk to visitors from wherever you are, in or out of the building, and provide entry without needing to go manually open the door yourself.

Adjustable to Your Budget
At Tekplex Solutions, we believe in making great security affordable. Whatever your budget, we're ready to help find the perfect system for you that isn't going to hurt the wallet.

Tailored to Your Needs
Our intercom and entry systems are fully customisable, and we will tailor every last detail down to the unique needs of your property. Don't settle for one-size-fits-all security, but build your dream system from the ground up.

Camera Options
CCTV can be incorporated into your intercom and entry systems, boosting your security even further. You'll be able to see any visitor, as well as monitor any suspicious activity happening outside your door. Should any unwanted guests show up, you'll have a recorded image of them for further protection.

Can Be Fully Incorporated
Already have a security system in place? Concerned about how adding a new intercom may mess with your existing programs? No need to worry. All our entry systems can be completely integrated into your existing security measures, making this an easy addition to improve your security.

Deter Crime
Having an intercom will naturally deter criminals from targeting your property, as gaining access will be significantly more difficult. Having an entry security system lessens the likelihood of break-ins and vandalism on your premises.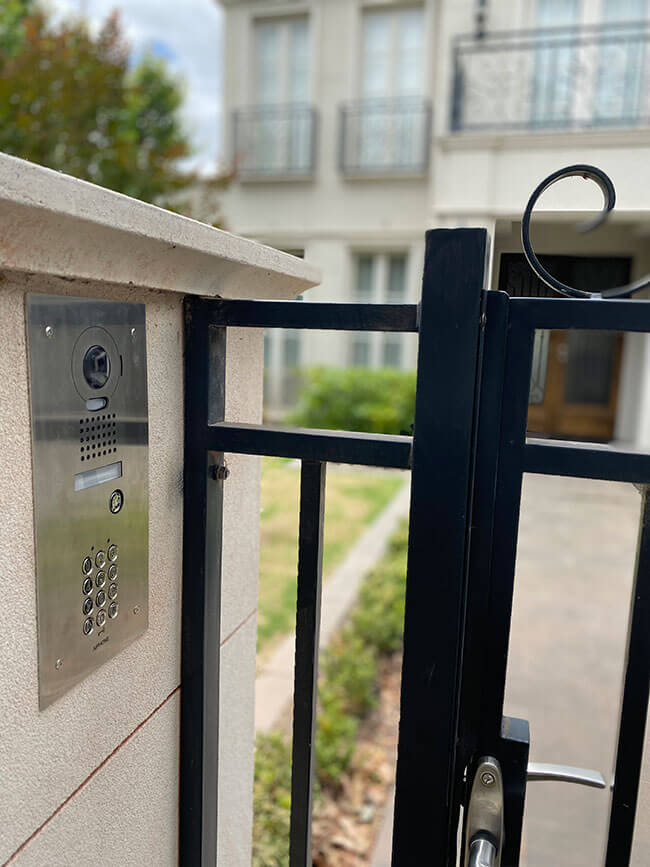 Feeling Safe and Secure with Your Intercom & Entry System
With a comprehensive entry system installed in any residential or commercial building, residents and employees are guaranteed to feel more secure. Comfort and safety should always be a top priority for any property owner, and beyond protecting belongings and assets, everyone who lives or works within a building with an intercom or entry system will feel safer on a day-to-day basis. Crime and vandalism are bound to be deterred, no matter what scale of security system you decide you want to install. The Tekplex Solutions team is committed to working within your needs and budget to deliver the intercom and entry system that will leave you feeling confident in the safety of your building.
Besides that, these systems can be incorporated with existing CCTV systems, so you can completely redefine the way your property handles security. In case you don't have a surveillance system, but you want to be able to see who is in front of your door, we can design and install cameras that will cover the entrance and provide high-quality footage of that area.
Install an Intercom or Entry System at Your Premises
Interested in an intercom system? Whether you're a homeowner, business owner, or you manage a large industrial property, the Tekplex Solutions team is ready to find the perfect entry system for you. We care about security, and we care about ensuring that you feel confident that your premises are as protected as possible. Reach out to us today to get your new security system installed quickly and professionally.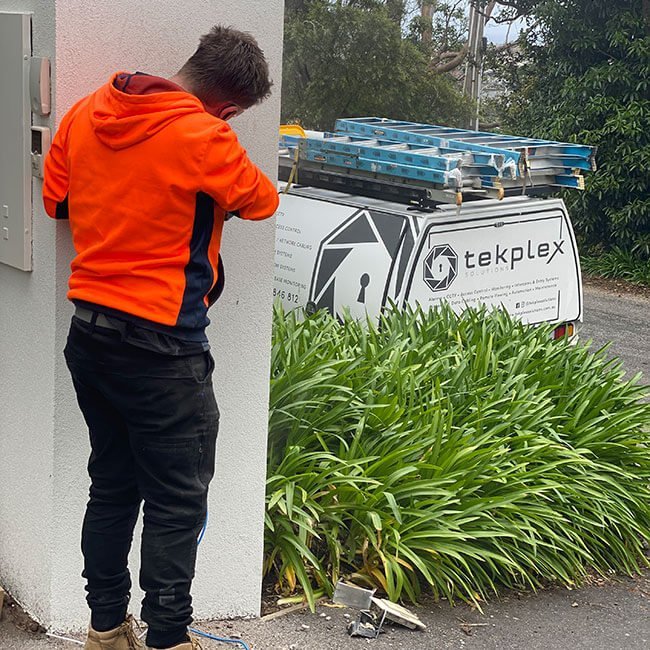 Your Questions Answered
An intercom system gives you the ability to speak to or see anyone requesting access to your building. It allows you to decide for yourself who should be allowed in, putting all the control right in your hands.
Entry systems typically install one main device to be mounted at a door or entryway, providing live feeds of the entrance and allowing visitors to announce their arrival.
Intercoms give you total control of who's coming in, allowing you to give a case-by-case judgement. Having a camera or microphone available allows you to communicate with visitors remotely, without needing to make your way to the door every time you need to allow entry or ask questions.
Yes, Tekplex Solutions is a Melbourne-based security company, ready to install intercom and entry systems all throughout our local areas.
Intercom Solutions for All Settings in Melbourne

Homes
Want to know who you're buzzing into your home? Want to know it's somebody you know at your door before you head down to open it up? Intercoms are one of the easiest ways to make you feel safer within the confines of your own home. Don't let yourself worry about security when you're alone. Having an intercom lets you filter out anyone who might make you feel unsafe, or who you simply may not want entering your home.

Commercial/ Public Sector
Your business may be filled with valuable data, technology, and resources. Therefore, it's essential that you know who's gaining access to your property at any given time. Intercoms allow you to fully filter through staff and visitors, managing the flow of traffic to your business and giving you a comprehensive tally of who is in your business at any given moment. The likelihood of theft and burglary becomes significantly lower, and you'll be able to not only protect your assets, but also protect your staff and clients.

Industrial
Industrial properties can be vulnerable targets for damage and theft. What can be especially tricky about security for these areas is that it isn't always the same people showing up day in and day out, and it can become harder to know if everyone there is supposed to be there. Intercoms add an extra layer to accessing an area— ensuring that nobody can enter without explaining why they're there, and who they are. With the simple addition of an intercom, you can prevent a large number of unwanted guests from being able to enter your industrial complex.
Why Choose Tekplex Solutions?

Experience
Tekplex Solutions was founded by a security expert with over ten years of hands-on experience in the industry. When you work with our team, you're working with skilled professionals who know this trade like the back of their hands. Working with businesses for years now, we've learned the ins and outs of how to best serve clients. Choose a security provider you know you can trust.

Expertise
When it comes to security, we know what we're doing. From all the latest products to the best results-driven procedures, we understand how to deliver comprehensive security services that will keep your property safe. At Tekplex Solutions, our primary aim is to provide the highest quality of security services in the market. We offer all our knowledge and expertise to guide and advise our clients, ensuring that we find the perfect product for their unique needs.

Local Business
We're proud to be a Melbourne company. Working locally gives us an advantage when it comes to serving our clients— we understand the businesses, the areas, and can adapt as needed. As a client-focused company, being able to offer high-level professionalism to our local Melbourne areas has been a source of pride for the Tekplex Solutions team. We believe in being personable and accessible to those we work with, walking you through every single step of the installation journey.
Ready to Install An Intercom or Entry System?
There's an invaluable peace of mind that comes with knowing for certain that nobody enters or exits your home or business without you knowing. Protect yourself from burglars, security threats, and unwanted guests by monitoring everything that happens at your door. If you're ready to install your new intercom or entry system, then the Tekplex Solutions team is ready to lend a hand. We'll be there every step of the way, ensuring we find the perfect system for you.
Call now to talk to an expert about your security needs!