Access Control Systems Melbourne
Enhance the safety of your commercial property with an effective access control system.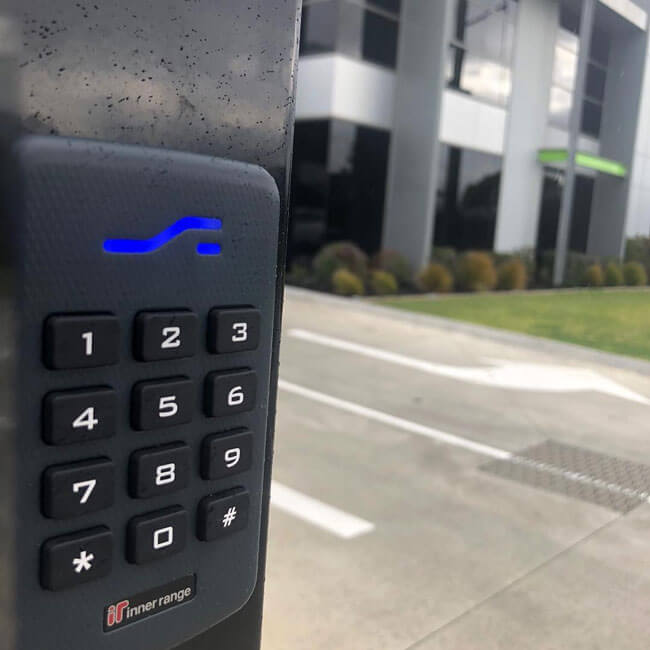 Keeping Your Business Secure
Access control plays a fundamental role in any comprehensive security system. It plays the most important part in ensuring your business is safe— if you aren't in control of who can access the premises, you aren't in control at all. Great access control is one of the most effective ways to reduce the chances of a burglary taking place, protecting yourself from theft, and costs that could take a severe toll on your business. Nowadays, old methods of security just aren't cutting it. As technology evolves, there are an endless variety of brilliant security measures you could install to control who has access to your property.
About Access Control
Most simply put, access control systems filter who can enter particular sections of a premises at any given time. Primarily used in commercial facilities, these systems effectively allow you to restrict access to your property to anyone except those qualified and required to be there.
Your very own system will be designed entirely for your business, allowing you to factor in every unique consideration necessary to ensure vehicle gates, main entries, interior doors, and even drawers are only accessed by those who you want accessing them. In short, having an access control system in place offers nothing but benefits to a commercial property owner.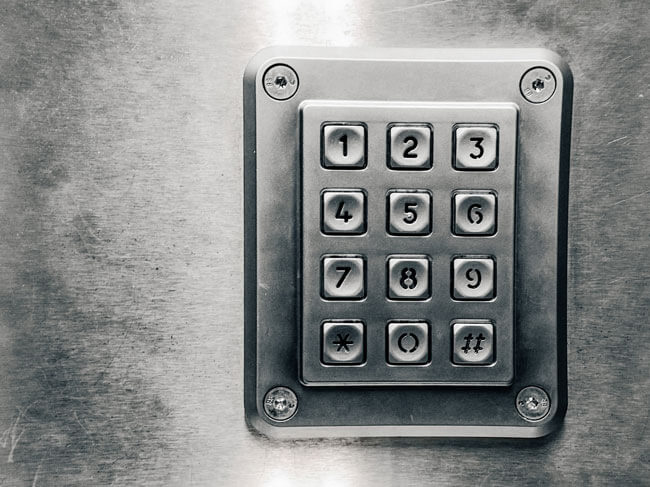 Why Install Access Control?

Unique Authentication
When you work with Tekplex Solutions to install a new access control system, we will partner closely with you to ensure that we are offering everything your business could possibly need. Your system will be uniquely designed to meet the specific factors in consideration— down to personnel, different methods of access needed for different areas, and anything else that could affect things. Every last detail will be designed to the smallest needs of your property.

Lower Costs
Access control systems keep thorough tabs of how many people are in any area of your building. Subsequently, they know which areas are vacated, and can adapt accordingly. Your energy bills can be significantly lowered by allowing your access control system to monitor activity, turning off lights and unnecessary energy to areas without guests or staff present, saving you valuable money.

Peace of Mind
Don't you want to know that you've got all the security you need if anything is ever to go wrong? Access control isn't frivolous or unnecessary— it offers you the confidence that your commercial property is protected, and that you won't face any nasty incidents due to unwanted visitors. Protect your staff, your data, and your business by investing in great security.

Safety
Theft and property damage can be extremely detrimental for commercial property. When you've got sensitive or highly valuable information and resources, you can find yourself easily targeted. The added security of access control systems puts you in the best position possible to avoid threats like this impacting your business.

Comprehensive Records
With access control, you can know precisely who was where at any time of the day. You can have complete records of who gained entry to a specific area, and in the chance that anything does go wrong, you will have a full history of what areas were accessed by whom. CCTV and camera systems play a big role in many of the products we offer, providing you with the information you need to handle any burglary or security incident that takes place swiftly.

Adaptability
As your staffing or access needs change, so can your access control system. The benefit of these technologies is that they're able to grow and adapt along with your business. They also have transferable access tools and no overly complicated procedures to go through in order to add people to the list of those permitted to areas. You aren't locked into anything, and your access control system works entirely for you.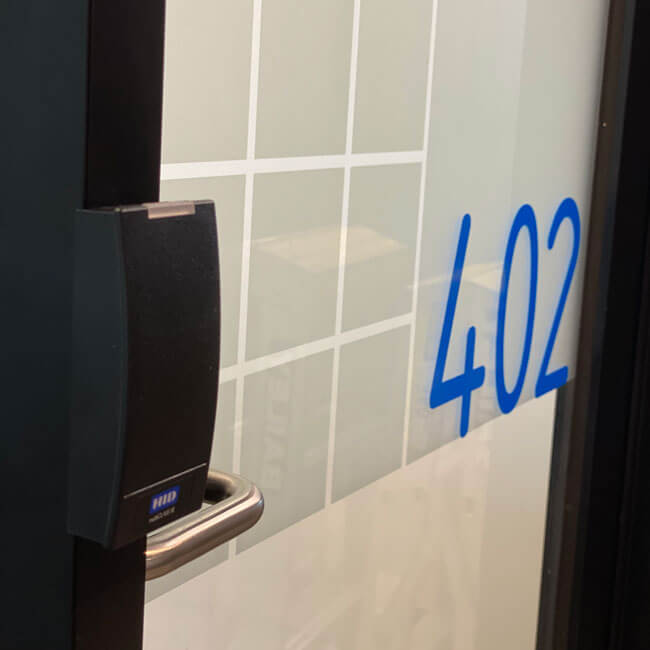 Comprehensive Visitor Management Through Access Control
Manage the flow of visitors to your business by restricting entry to different areas of your property. Whether your business works with hazardous materials or whether you have sensitive information or tools in particular areas, you want to be confident in the fact that only authorised personnel will be entering and exiting regulated areas. Inputting security systems to limit unwanted visitors gives you invaluable peace of mind, ensuring that your most vulnerable areas are left entirely secure.
Keyless Access
You're looking for something more secure than a lock and key! There are far more secure options available to protect certain areas of your business. You can use cards, fobs, and even smart phones to enter your property, adding that extra layer of necessary authentication from visitors attempting to enter the area. Our team is even able to take this one step further than just restricting doors— these systems can be used to control access to file cabinets and drawers, securing all documents, assets, and data important to your business.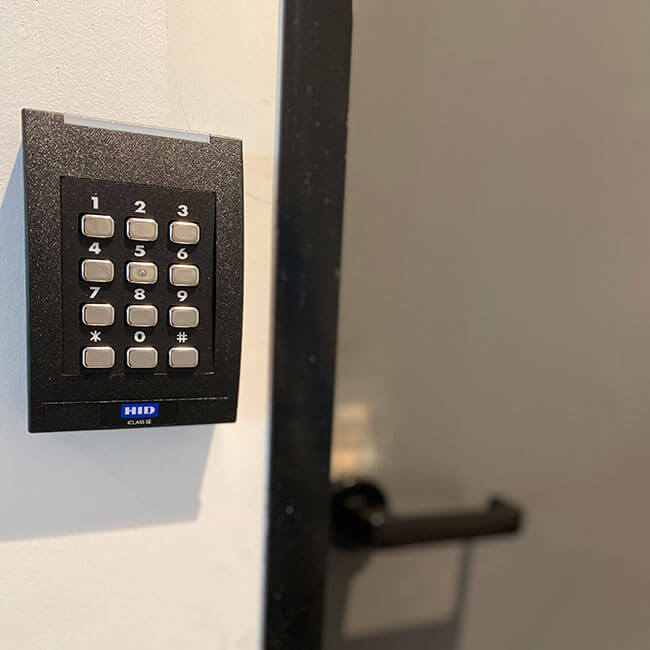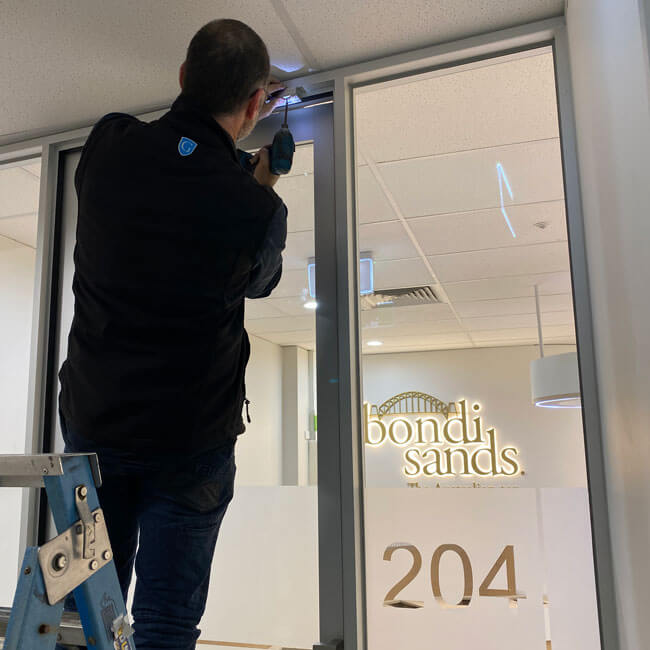 Get Access Control at Your Premises
Don't take a risk on safety. Thorough access control systems ensure that your entire property is secure, right down to who can access what rooms and drawers. If you're looking to protect your business, then the traditional set of keys just isn't going to be enough. Call now to chat with a security expert and learn a bit more about what access control could look like at your premises.
Your Questions Answered
Access control allows you to restrict who can access what areas of a property, and when.
With fobs, keycards, apps, cameras, and other forms of technology, access control limits entry by only permitting authorised visitors to get past vehicle gates or interior doors.
Access control ensures that nothing gets into the wrong hands. Your commercial property will be protected by only trained, permitted, and authorised people to access important areas of your building.
A fob is just one of the ways we can offer access to a property. If you'd rather, you could instead choose to use cards or even smartphones to gain entry.
Yes, Tekplex Solutions is a security company located only in Melbourne, offering our security services to our local communities.
Access Control For Homes
Access control isn't only for businesses with extremely sensitive resources or data. If you're looking to better the security for your home, then access control systems could be the added security measure you've been looking for. Tekplex Solutions offers comprehensive keyless access technology for domestic use, ensuring that your family can feel safe within their own home, wherever it is you live. If you're looking to protect your home with more than a lock and key, then we're able to give you a hand.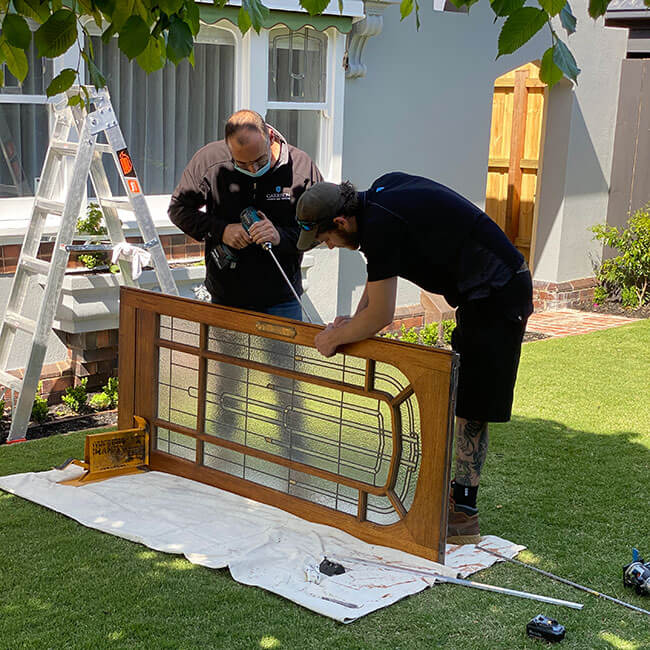 Why Choose Tekplex Solutions?

Experience
Tekplex Solutions was founded by a security expert with over ten years of hands-on experience in the industry. When you work with our team, you're working with skilled professionals who know this trade like the back of their hands. Working with businesses for years now, we've learned the ins and outs of how to best serve clients. Choose a security provider you know you can trust.

Expertise
When it comes to security, we know what we're doing. From all the latest products to the best results-driven procedures, we understand how to deliver comprehensive security services that will keep your property safe. At Tekplex Solutions, our primary aim is to provide the highest quality of security services in the market. We offer all our knowledge and expertise to guide and advise our clients, ensuring that we find the perfect product for their unique needs.

Local Business
We're proud to be a Melbourne company. Working locally gives us an advantage when it comes to serving our clients— we understand the businesses and the areas, and can adapt as needed. As a client-focused company, being able to offer high-level professionalism to our local Melbourne areas has been a source of pride for the Tekplex Solutions team. We believe in being personable and accessible to those we work with, walking you through every single step of the installation journey.
Ready to Install Access Control?
When it comes to security, it's always better to be safe than sorry. If you're considering the installation of access control systems, now is the time to enquire. You never want to wait until something goes wrong, especially when it could have been prevented with the installation of a comprehensive control system. Whenever you're ready to take your business's security to the next level, Tekplex Solutions is ready to answer your call and get the ball rolling.
Call us today to chat with a friendly security expert who can walk you through what this process could look like for your property.